We ascribe beauty to that which is simple; which has no superfluous parts; which exactly answers its end; which stands related to all things; which is the mean of many extremes.
Ralph Waldo Emerson, "Beauty"


ARCHETYPES OF CRAFT
a Practical Wisdom

Our second conversation is with Craft. Innermost House cultivates fine craft in the manner of American beginnings, where Wilderness and Enlightenment met as equals, and the art of less was truly more.
We believe in craft as an agent of reform, a tool of self-reliance, and a way to wisdom. We seek in the individual hand of craft a living conversation between the body of land and ideals of the mind. We believe that a unified architecture of beautiful forms holds a key to harmonize nature and thought, to begin to heal the wound of modern life, to marry in material conversation high civilization with the heart of wilderness. We are artists of the beautiful who seek the ideal of "Man Making."
The biggest problem in the world could have been solved when it was small.
Lao Tzu, The Way of Life
Innermost House is an American epitome of classical "Primitive Hut" architecture, tracing all aspects of traditional building and craft back to their archetypal origins. We invite craftspeople in all trades to partner with us in exploration of the roots of artistic form. For artisans from timber framers and canoe builders to hearth cooks, cabinet makers and tailors, this is a chance for once in a career to take part in a complete and ideal building project. Our purpose is to unify all the essential arts of domestic life into a living architecture of aloneness: of "all-one-ness."

Through all the world there goes one long cry from the heart of the artist:
Give me leave to do my uttermost!
Isak Dinesen, "Babette's Feast"


REPRESENTATIVE ARTS AND CRAFTS
Reclaimed Timber
Timber Framing
Hewn Log Building
Preservation Carpentry
Door and Window Joinery
Wood Flooring
Stone Masonry
Firebox Construction
Plasterwork
Cedar Shingling
Plumbing and Fixtures

Furniture Making
Coopering
Forged Ironwork
Locksmithery
Door and Window Hardware
Boat & Canoe Building
Axes, Saws & Tools
Gardening & Garden Tools
Lanterns
Candle Making
Calligraphy
Printing & Bookbinding
Early Scientific Instruments
Folk Music & Instruments
Pottery
Treenware
Hearth Cooking & Cookware
Tailoring & Boot Making
Box Making
Rug & Basket Weaving
Viticulture & Winemaking
Documentary Photography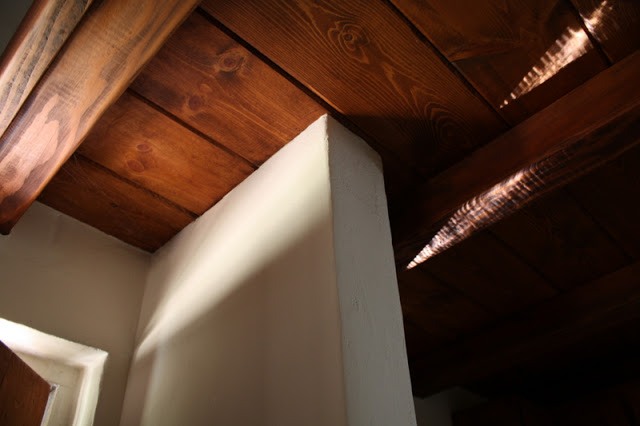 Nuns fret not at their convent's narrow room;
And hermits are contented with their cells;
And students with their pensive citadels;
Maids at the wheel, the weaver at his loom,
Sit blithe and happy; bees that soar for bloom,
High as the highest Peak of Furness-fells,
Will murmur by the hour in foxglove bells:
In truth the prison, into which we doom
Ourselves, no prison is: and hence for me,
In sundry moods, 'twas pastime to be bound
Within the Sonnet's scanty plot of ground;
Pleased if some Souls (for such there needs must be)
Who have felt the weight of too much liberty,
Should find brief solace there, as I have found.
William Wordsworth